The Owl and The Pussycat Hotel supports Sri Lanka to make a come back in all it's beauty resurrected a hundred percent.

We request the world to come back and join us with a special 100 USD per night invitational offer at the Owl and The Pussycat Hotel.

So step onboard your pea-green boat
Sail away with the Owl and The Pussycat
to an Emerald Isle, where the Bong Tree grows

It's a once in a lifetime opportunity to experience a unique sense of renewal, and contribute to the future of this beautiful country so that Sri Lanka rises again, a luminescent pearl in the Indian Ocean – just like the moon on it's waters. Be a part of the magic.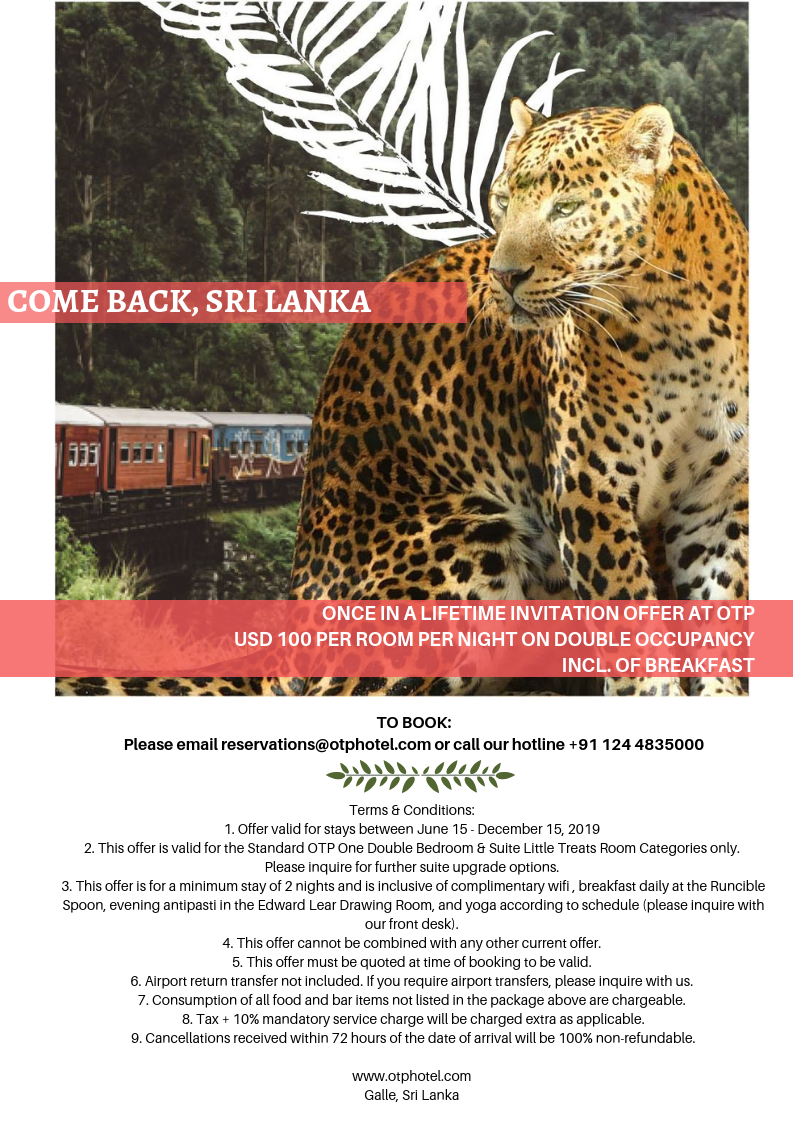 Come Back, Sri Lanka Special Invitational Offe
r: USD 100 per room per night on double occupancy, inclusive of breakfast, complimentary wifi, evening antipasti, yoga (see details below).
Terms & Conditions:

1. Offer valid for stays between June 15 - December 15, 2019
2. This offer is valid for the Standard OTP One Double Bedroom & Suite Little Treats Room Categories only.
Please inquire for further suite upgrade options.
3. This offer is for a minimum stay of 2 nights and is inclusive of complimentary wifi , breakfast daily at the Runcible Spoon, evening antipasti in the Edward Lear Drawing Room, and yoga according to schedule (please inquire with our front desk).
4. This offer cannot be combined with any other current offer.
5. This offer must be quoted at time of booking to be valid.
6. Airport return transfer not included. If you require airport transfers, please inquire with us.
7. Consumption of all food and bar items not listed in the package above are chargeable.
8. Tax + 10% mandatory service charge will be charged extra as applicable.

TO BOOK:
Please email reservations@otphotel.com or call our hotline +91 124 4835000